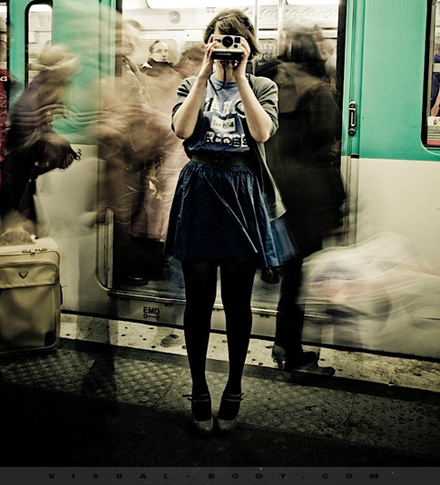 Bambie on the subway: history
Posted on 30 December 2008 by Julien Bourbon
Magically
Sometimes, Finally, I would often, my ideas strike me as a photo button in the face. I have a kind of "vision" of or-- photo(s) final(ss. It can not be explained. This is how. The hard part is to explain the concept to people who will be part of the project. This is what happened with this series entitled : Bambie on the subway.
I wanted a model with a particular style. As mentioned above, I really could not tell you what "kind" Model. I had to fall over and… this. The concept as such is like the rest … inexplicable. Good. Stop asking questions ! ;¬)
I saw a girl…static…people around but blur, color processing in the crossover style and accessories of all kinds, totally unrelated to the context of the place. Bambie on the subway was born.
Direction in a place with lots of people, running around and that's always in a hurry. What better than a Paris subway, specifically to the Montparnasse station, that combines metro and SNCF train station.
It was pretty fast once in place and the few tests of exposure time (between 1.3 s and 1.6 s). We did that fast anyway; in 45 minutes, had been completed.
No alterations have been made, if not the chroma (overall color photos) to be closer to my idea. Bambie And none were harmed during the shooting.
Please note that this is the first series produced with my new box freshly imported from China : Canon 5D Mark II.